Our suites are warm and comfortable so that you can fully relax during your stay.
SBN Suites Hotel offers different types of suites to better meet your needs, these will certainly make your stay in Tangier more memorable. Each of them has characteristics adapted to your needs and to ensure the comfort of your home...
Ideally located in the heart of Tangier, only a few steps from the main attractions, including the Tanja Marina Bay and surrounded by two Malls which gives you the possibility of immediately finding a large number of unique shops, cafes and restaurants. The historic Kasbah as well as the museums and the Place du 9 Avril (Grand Socco) are also accessible just a few minutes from the establishment.
Spoken languages
English
French
Spanish
Arabic
Internet access
Free Wi-Fi in all common areas
Free Wi-Fi in all suites
Relax
Beauty center
Spa
Sauna
Massage
Hammam
Eat, drink and snack
Breakfast buffet
Coffee
Restaurants
Terrace
Room service (24/24)
Accessibility
Wheelchair accessible
Facilities for people with reduced mobility
Elevator
Garage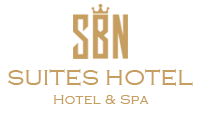 Address
Boulevard Mohamed VI, Avenue Arizona Corniche of Tangier
90 000 Tangier - Morocco
Phone Number
+212 5 39 34 10 54
+212 5 39 94 19 23
Email
info@sbnsuiteshotel.com